Have you ever had a Baja Fish Taco from Long John Silver's? If not, you should run (don't walk) to your nearest LJS and try one immediately! They are comprised of battered fish, lettuce, baja sauce and those "crunchies" pieces, wrapped in a flour tortilla. It's like heaven! Its also, like, 22 grams worth of fat. That's something I just can't afford on a regular basis, so...you guys know where I'm going with this right?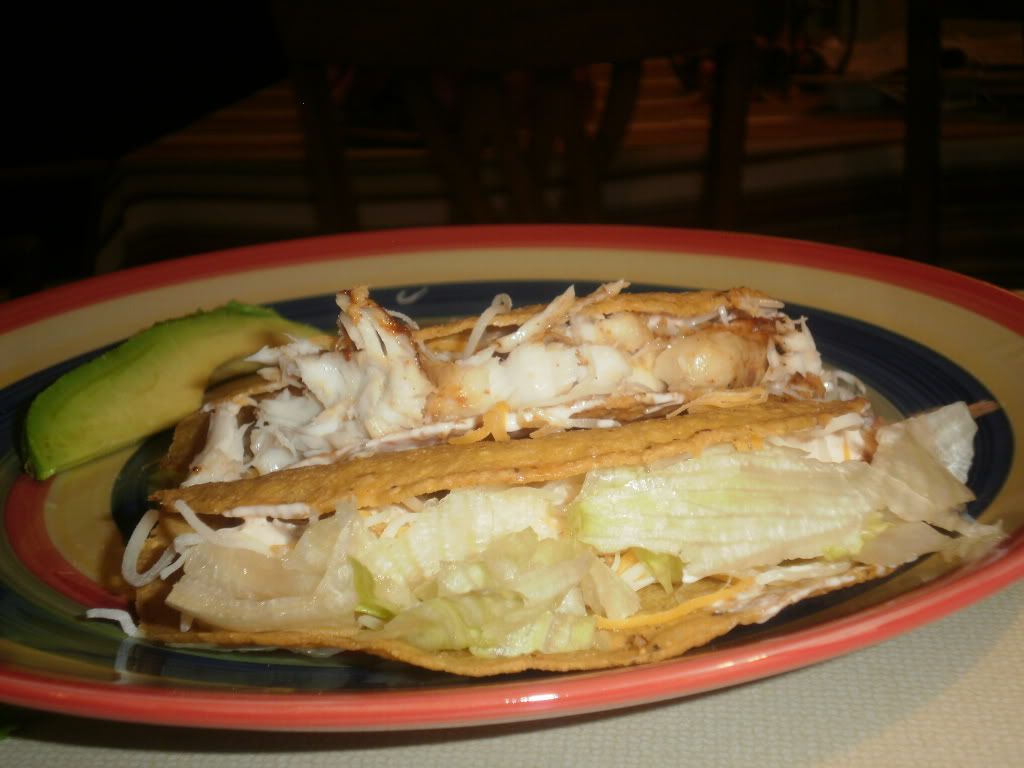 Behold, my version of the fish taco! Which I have renamed Tilapia Taco because frankly, its more appealing. I use baked fish instead of fried (although if you want a
really
easy way out, buy some frozen, breaded fish fillets and bake them up!), and I paired it with a homemade baja sauce. This sauce is
so
good, I'm already brainstorming other ways I can use it. I like a lot of spice so I put in quite a bit of cayenne pepper, but you can adjust it to your taste. I also used crunchy taco shells instead of flour tortillas, but they would be delicious either way. If you decide to use tortillas, you might consider crushing up a couple tortilla chips and adding them in the wrap so you still get that crunch. That's part of what makes these so good (LJS accomplishes the crunch with those little fried crunchy things), so you need to add some crunch in there somewhere (obviously if you're using a hard shell you don't have to worry about that). I know these seem a little strange, but I wouldn't steer you wrong! Give them a try!
Tilapia Tacos
4 tilapia fillets
1 packet reduced sodium taco seasoning
hard or soft taco shells
accompaniments: lettuce, tomatoes, salsa, avocado, cheese - whatever you like!
Directions:
Rub each fillet with about 1 teaspoon of the taco seasoning and place on a greased baking sheet.
Bake at 450 for 10-15 minutes until cooked through.
(Now, you can just eat these as is and forget all about the tacos, this fish is wonderful all by itself!)
Flake fish into chunks and assemble tacos with your toppings and baja sauce.
Baja Sauce
1/4C light mayo
1/4C light sour cream
1/8-1/4t cayenne pepper
2T lime juice
1t taco seasoning
1T ketchup
Whisk together and chill until ready to use.