If ever there existed a recipe to prove that it doesn't take a ton of ingredients to create a memorable meal (or snack in this case), its this one. Two ingredients is all you'll need! When I'm researching or creating recipes I focus on two main characteristics, ease and creativity. I love to show up at a party with a dish that makes people say, "Wow!" Not because I want praise or attention (okay maybe that's a
tiny
part of it), but because it absolutely thrills me when something I've prepared makes someone smile. Its even better when they ask me for the recipe and then later tell me it was a hit with their guests too! That's what food is all about to me...sharing and making people happy. Its a circle of love people, a circle of
love
.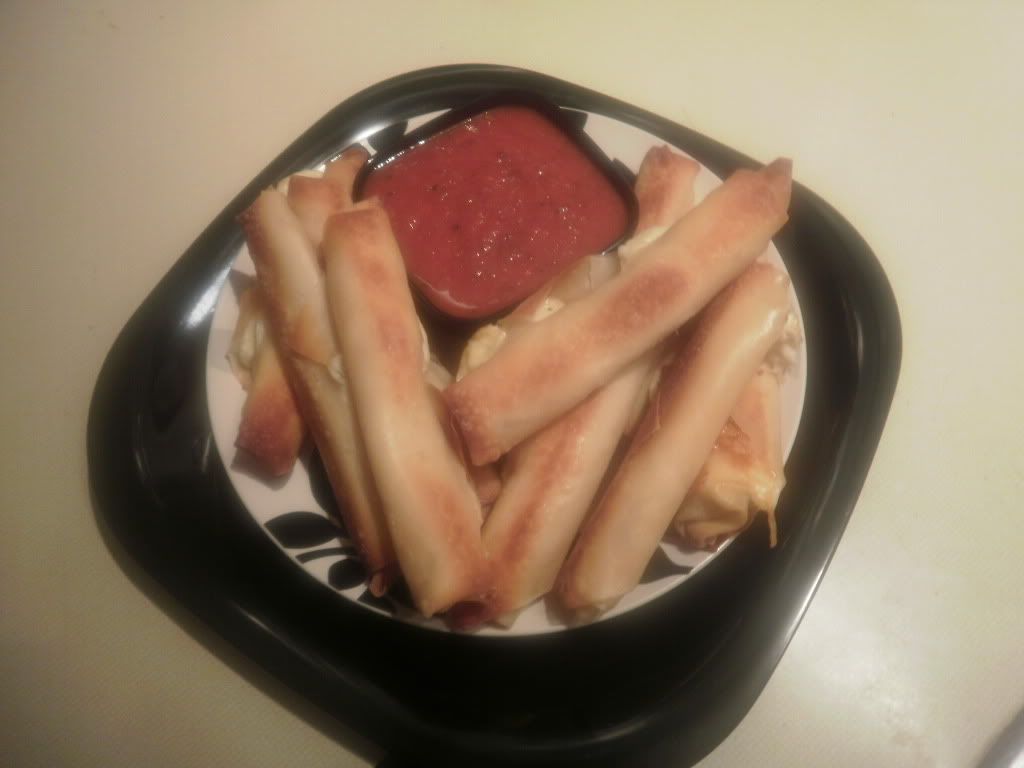 Alright, enough of that mushy nonsense, lets get on with this recipe! The original recipe calls for these to be fried, which you can certainly do, but I always choose to bake them. Honestly its much less effort and mess to just pop them in the oven, and they are so tasty this way that I can't imagine frying them would add anything except calories. This is actually a very figure friendly snack because egg roll wrappers contain very minimal calories and you can find reduced fat cheese sticks for around 50 calories per stick. The best part is you only have to make as many as you want, so portion control is breeze!
Mozzarella Sticks
(Make sure you get a pen to write all these ingredients down. I apologize in advance if your hand gets sore.)
egg roll wrappers
string cheese sticks
optional: marinara sauce for dipping
Directions:
Place one cheese stick in diagonal egg roll wrapper and roll up. (There should be instructions on the package if you aren't sure how to roll them.)
Spray a cookie sheet with nonstick cooking spray. (I always line mine with foil for easy clean up.)
Place mozzarella sticks on the sheet making sure they aren't touching.
Bake at 450 for about 20 mins, turning once halfway through cooking. The wrappers will get crispy and brown. Don't be alarmed if some of the cheese oozes out of the sticks. All this means is that you will have some crispy cheese bits in addition to your mozzarella sticks, yum!