Back home in the little college town I'm from, there was a restaurant named Chancey's and their signature menu item was a finger food named "crusties," They don't sound very appealing, do they? Oh, how you're mistaken. Crusties were slices of pizza dough rolled up with either pepperoni or barbecue chicken filling. The best way I can describe them would be to say they looked like savory cinnamon rolls. The restaurant closed down years ago, but my little town had gotten hooked on crusties, and so other local pizza shops started making them too. None were as good as the original and they became known as "pizza rolls" at most places, but they still satisfied the craving.
These things truly might be my favorite food of all time. If my waistline could afford it, I would eat them for dinner every day. And breakfast.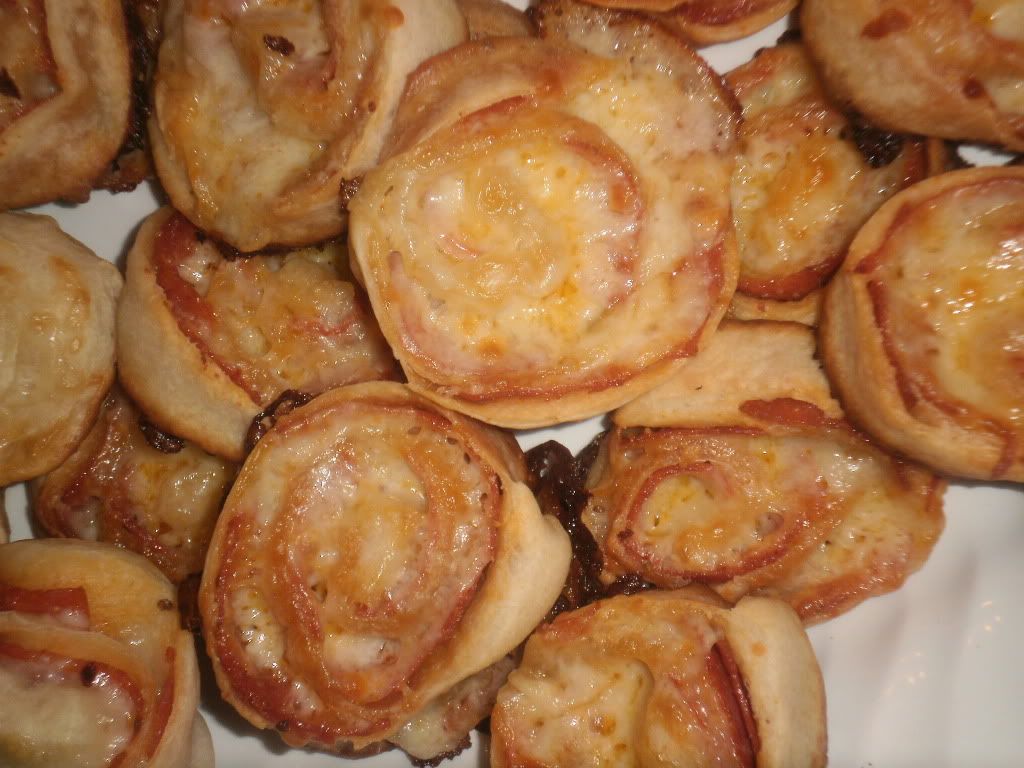 To my knowledge, there is only one place in town now that still makes pizza rolls, and every time I go home to visit my mom, she orders them for dinner. Sometimes I even order extra and bring them back home to freeze for a time when I'm feeling nostalgic. I haven't been able to find anything even remotely close to pizza rolls where I live now, and believe me, I've done a ton of searching. Since I was unsuccessful in finding them, I decided to try my hand at creating them. While its certainly not the same, these are still deliciously addictive and much cheaper than driving home every time I need my fix!
Pizza Rolls
1 can store bought pizza crust
2C mozzarella cheese or pizza blend cheese
1 bag of pepperoni (or experiment with other fillings you like!)
ranch or marinara for dipping (you MUST dip these or its not the same, I prefer ranch and I'll be posting a delicious homemade ranch dip recipe tomorrow!)
Directions:
Preheat oven to 425.
Unroll pizza crust into an even rectangle.
Cover the entire surface with pepperoni slices.
Top with cheese.
Roll up tightly, long side first (jelly roll style).
Place the entire roll in the freezer for about 10 minutes to firm it up, it will be easier to cut.
With a serrated knife, cut pinwheels into about 1/2-3/4 inch thick slices.
Lay flat on a greased baking sheet and bake at 425 about 15 minutes or until cheese is melted nicely.