As promised, here is your side dish to go with the enchiladas from yesterday! This really is the perfect side to almost any Mexican inspired meal, and it would be really great for summer cookouts as a cold side dish. Let's face it, any of Paula Deen's recipes are going to be good.
I have a general rule that I'm allowed to drool over Paula's recipes, but under no circumstances am I allowed to try any of her recipes that contain butter. Luckily this one doesn't, but it does contain an obscene amount of mayonnaise. (I used light to help redeem myself.) Hey, its Paula Deen, what do you want? The only thing I tweaked with the recipe was leaving out the pepper and onion. I didn't have any on hand so I used a can of Rotel and it was fabulous. Next time I think I'll do the same thing, it really gave it more of a Mexican flare!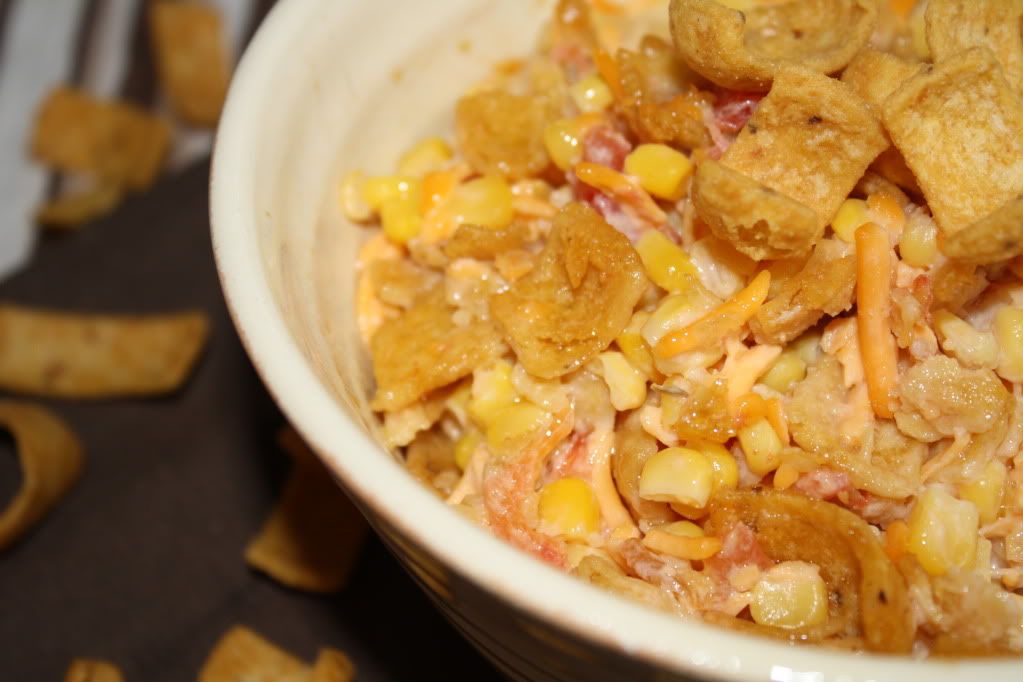 Corn Salad
2 cans whole kernel corn, drained

2 c. grated cheddar cheese

1 c. mayonnaise

1 c. green pepper chopped

1/2 c. red onion, chopped (I substituted a can of Rotel in place of the onion/pepper)

1 10 1/2 oz. bag coarsely crushed Chili Cheese Frito's (I just used regular)
Directions:
Combine first 5 ingredients and chill.
Right before serving add the crushed Frito's.