This year we didn't have any plans for Thanksgiving but we still made the whole meal at our house for our family. Since its just a few of us, we really didn't need a very large turkey. However, I bought a 20 pound monster solely because of how excited I was about all my leftover turkey recipe ideas. And so far, I think I've enjoyed them more than I did the turkey itself on Thanksgiving Day!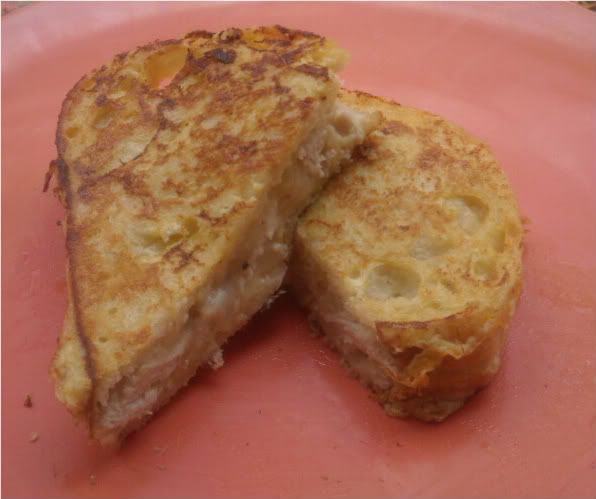 The Monte Cristo Sandwich is a variation of a Croque Monsier (usually made with ham) which is a french sandwich, dipped in an egg and milk mixture and cooked as you would cook french toast. Its sort of a combination of french toast and a grilled cheese. Often the Monte Cristo is dipped in a berry jam (I know, it sounds strange, but trust me, its delicious!). I thought, what better way to use up some of that cranberry sauce you have leftover than to use it as the dip. If you don't have cranberry sauce, you can use strawberry or raspberry jam instead. This sandwich sounds fancy, but its super easy and it would be an impressive lunch for the guests you still have hanging around after Thanksgiving!
Monte Cristo Sandwich
2 slices of crusty bread
1 slice swiss or provolone cheese
2t honey mustard
sliced turkey
1 egg
1/2C milk
1/4C cranberry sauce (or other berry jam)
cooking spray
Directions:
Whisk egg and milk together.
Spread honey mustard on bread and assemble turkey and cheese sandwich.
Holding the sandwich together dip one side in the egg mixture, and then the other. (Yes, your hands will get a little messy here.)
Place the sandwich in a skillet sprayed with cooking spray over medium heat.
Cook about 5 minutes on each side until browned.
Serve with cranberry sauce for dipping.