Most of us probably have fond childhood memories of making and decorating rolled sugar cookies. Its certainly one of my favorite memories with my mom. I replicate this tradition with my kids each Christmas, but most years its a rather half-assed attempt. I do make the cookies from scratch, but I usually use a store bought frosting and go really simple on the decorations.
Well, not this year. Not when I have a blog to impress. I went
all
out. We're talking Wilton tips and cake decorating bags and food coloring. Serious decorating equipment, which I have absolutely no idea how to use. I've said it before (but don't worry, I'll say it again) that I'm just
not
a baker. So, I tend to forget that sugar cookies (even my half-hearted attempts in the past) are messy, tedious, time consuming and freaking exhausting! And its twice as bad when you're doing it 100% from scratch and attempting intricate decorations! I have to laugh though, even my most intense effort didn't result in a product half as cute as some of the blogs I follow. How do you people get your cookies so perfect!?
This is why I should just stick to my comfort zone, the true Pie Hole nature: EASY PEASY. Its worth it in the end to create lasting memories for my children, but I just want to go on record and say that sugar cookies are a PITA! (Love you, kids!)
Since it may never happen again, I made sure to document the whole day (which consisted of about 5 hours on my feet...yep, still whining.).
A-cookie-cutting we go!
And we're off with decorating...
Someone just couldn't wait to do a taste test.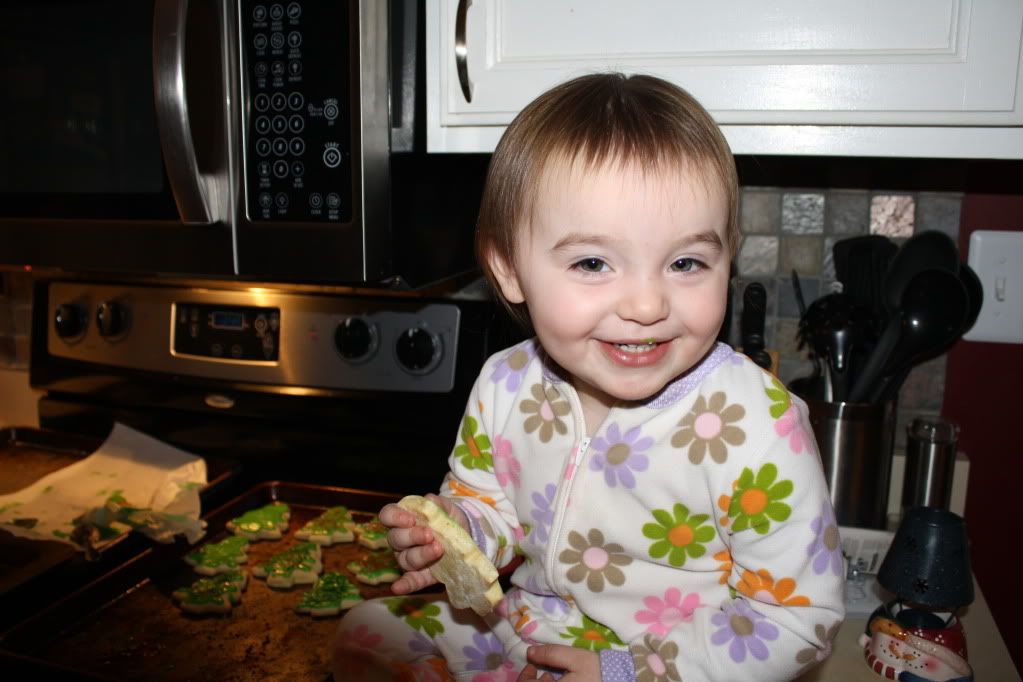 You have your garden variety stars....
And Christmas trees....
Then we get a little more sophisticated (shut-up) with the snowflakes.
Finally, my true pride and joy (FOUR different frosting colors on ONE cookie, I'll have you know), say hello to Frosty.
So a long hard day of work was all in all a success, anything for the kids, right? I have to admit, they make for pretty pictures (and so do the cookies).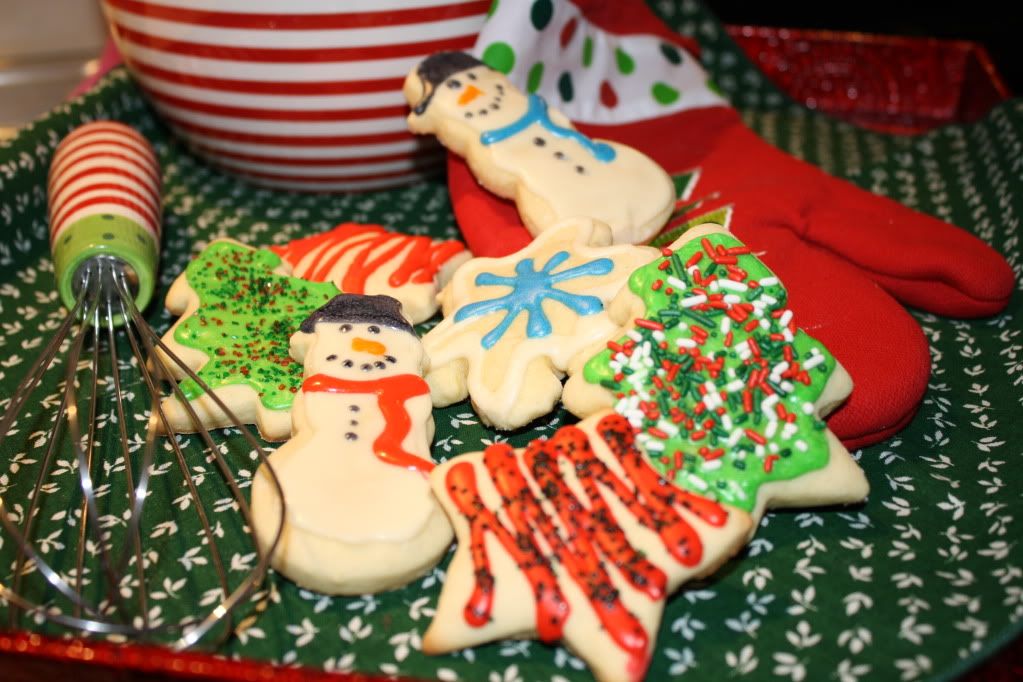 I even made little cookie packages for the kids to take to their teachers. How cute are these? Go ahead and say it, I'm pretty much the most creative person you know.
Rolled Sugar Cookies
Source:
http://allrecipes.com/Recipe/The-Best-Rolled-Sugar-Cookies/Detail.aspx?prop31=4
Ingredients
1 1/2 cups butter, softened
2 cups white sugar
4 eggs
1 teaspoon vanilla extract
5 cups all-purpose flour
2 teaspoons baking powder
1 teaspoon salt
Directions:
In a large bowl, cream together butter and sugar until smooth. Beat in eggs and vanilla. Stir in the flour, baking powder, and salt. Cover, and chill dough for at least one hour (or overnight).

Preheat oven to 400 degrees F (200 degrees C). Roll out dough on floured surface 1/4 to 1/2 inch thick. Cut into shapes with any cookie cutter. Place cookies 1 inch apart on ungreased cookie sheets.

Bake 6 to 8 minutes in preheated oven. Cool completely.
Frosting
Ingredients:
4C powdered sugar

2/3C butter

1t vanilla

2T milk
Directions:
Beat all ingredients together and pipe or spread onto cookies. It will harden as it sets.