I'm not usually a soup person. I can't say exactly why, its just not usually my favorite food. There are two exceptions though, the first being tomato soup with a grilled cheese. The second being when its colder than an eskimo outside and it becomes necessary to consume something warm and filling to keep yourself from turning into a popsicle.
I threw this soup together with ingredients I mostly had on hand. You can change things up according to what you have on hand too! Any short pasta would work in this soup, or you could use navy or northern beans in place of pasta. Peas or carrots might be nice additions as well. This is a good "clean out the pantry" type soup. Its also hearty enough to be a complete meal, as long as you serve it with crusty bread for dipping. In my mind, you
have
to have something to dip or dunk in your soup (crackers, bread, croutons, sandwich). I hope you enjoy this one, stay warm!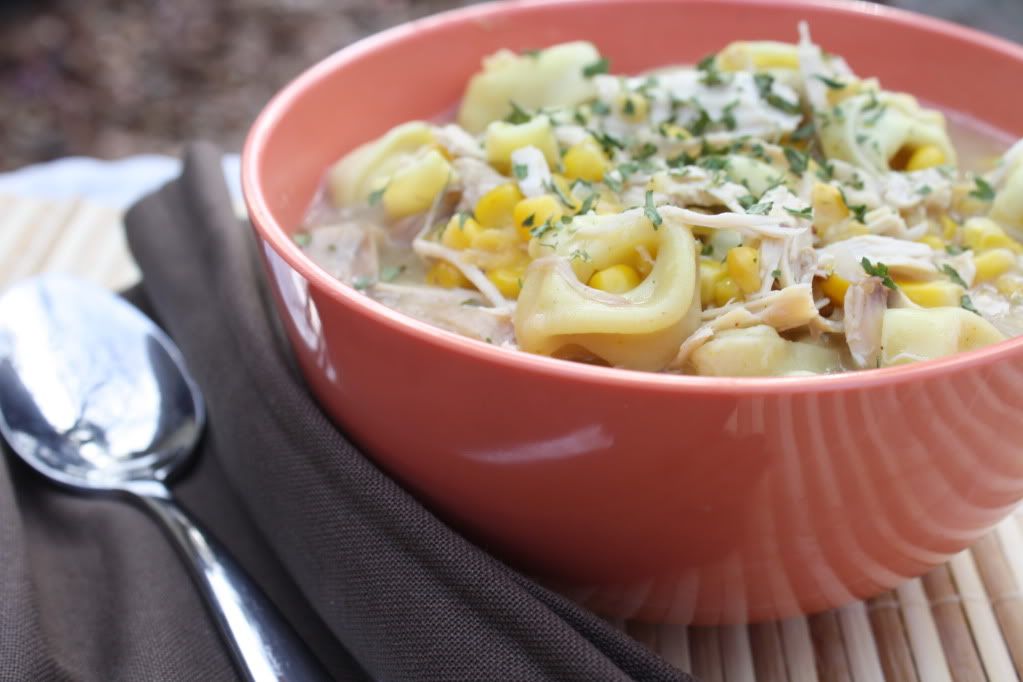 Chicken Tortellini Soup
4 cups of low sodium chicken stock
1-2 cups water (start with one and add more if needed to gain the desired consistency)
1 rotisserie chicken, shredded
1 can of corn
1 can of creamed corn
1/4C grated parmesan cheese
2T cornstarch
1 package of cheese tortellini
1/2t garlic powder
salt and pepper to taste
Directions:
Bring stock and 1 cup of water to a simmer.
Add in garlic powder, salt, pepper, creamed corn, corn, and shredded chicken.
Allow to simmer for 20 minutes.
Put 2T of cornstarch in a small bowl, ladle in some of the hot broth and stir until smooth.
Pour mixture into soup, and add tortellini and 1/4C parmesan cheese.
Allow to simmer another 10 minutes before serving. Add in more water if needed.
Note: You could throw this in the crock pot and let it simmer all day, just don't add the tortellini and parmesan cheese until the very end.