I've been on quite the meatball kick ever since
Sweet and Sour Meatballs
. I never even considered making my own meatballs before starting this blog, especially when buying a frozen bag of them is so easy. The truth is that the first time I made them I just wanted to see if I could. Now, I don't think I'll ever go back to buying frozen meatballs. Sure, its the easy way out (which you know is a good thing in my book) but the taste doesn't even compare. From now on I will take the little extra time to make homemade meatballs!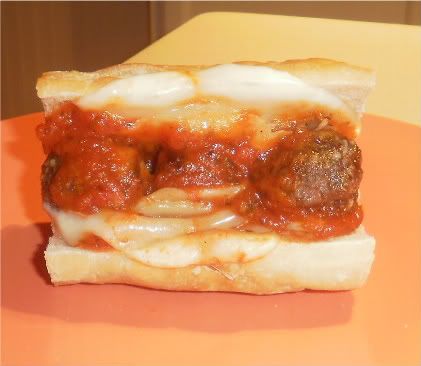 Come on now, if I can do it,
you
can do it. Its as easy as mixing up the meat, shaping it into balls, and popping them in the oven. They freeze beautifully too, so you can whip up a big batch on the weekend and then freeze them until you're ready to use. It couldn't be easier!
Italian Meatball Subs
1 lb ground beef
1/2C italian style breadcrumbs (or regular breadcrumbs with 2t of italian seasoning)
1t garlic salt
1 egg
1/4C parmesan/romano cheese
hoagie rolls
provolone cheese
marinara sauce
Directions:
Preheat oven to 400.
Mix first five ingredients together, form into balls and place on baking sheets.
Bake for 15-20 minutes, turning once if you wish.
Leave the oven on.
Split the hoagie roll, spoon marinara onto the bread, arrange meatballs and top with cheese.
Place the whole sandwich into the oven for 10 minutes or until cheese is melted and bread is slightly crisp.