If you've been following my blog for any substantial amount of time now, you probably know that if its edible, I'll try to put it into egg roll form. A while ago, when I made
Bacon Cheeseburger Egg Rolls
for
Once A Month Mom
, someone commented on the post (thanks whoever you were!) and suggested cheese steak egg rolls. Not one to turn down an egg roll challenge, I got to work immediately!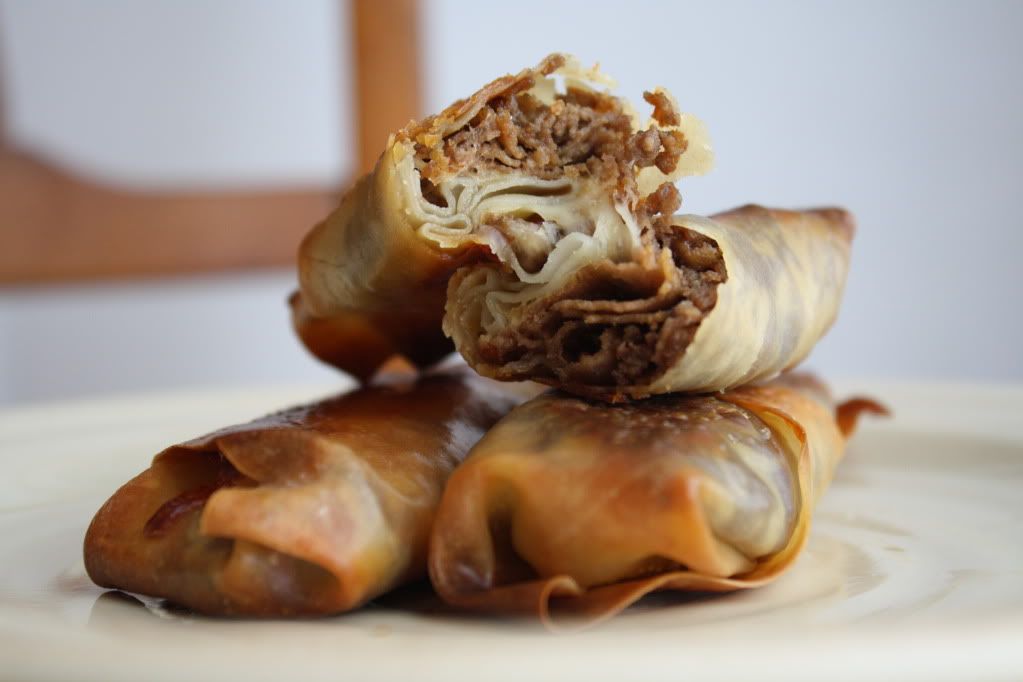 Of course, I had to simplify the process as much as possible, so I utilized a fantastic frozen product known as Steak-Ums. If you don't like Steam-Ums you can stop reading now, if you do, please press on and I think you'll be happy with the end result. These are (like most of my recipes) incredibly easy. Plus, you'll save a few calories by replacing a carb loaded hoagie bun with calorie friendly egg roll wrappers. I swear this will cure your steak and cheese fix without making the waistline of your yoga pants scream for mercy. You're welcome, yoga pants!
Steak and Cheese Egg Rolls
egg roll wrappers
shredded provolone cheese
steak-ums
Directions:
There's not rocket science going on here! You'll need about two steak-um sheets per egg roll, so keeping in mind how many you want to make, fry up your steak-ums. Feel free to throw in whatever seasoning you have on hand (Montreal steak, some garlic, or even just salt and pepper). Then you'll line up your wrappers and fill them with some steak and shredded cheese, roll them up and place on a sprayed baking sheet. Bake at 400 for about 15-20 minutes, turning once to brown both sides. Dip them in mayo or ketchup!