A few months ago I ventured on a three and a half hour visit home to see my mom, with three kids in tow, all by myself. Don't ask, yes, I'm crazy. I was already armed with a portable DVD player, but thought I needed some additional behavioral incentives once the movies got old.
So, what did I do? I cooked! Well, sort of. The method for this recipe can't exactly be described as "cooking," more like assembling. I actually made this before I went to work, so that I wouldn't have as much to do in order to get ready for our trip the next day! That should tell you how simple this was to prepare. A word to the wise though, unless you have serious self control, are making this for a party, or have super munchy kids (like mine)....don't even bother with this. You'll eat the
whole
batch. All eighteen servings. And I really don't want to be responsible for anyone gaining five pounds on my watch. I can't have that on my conscience.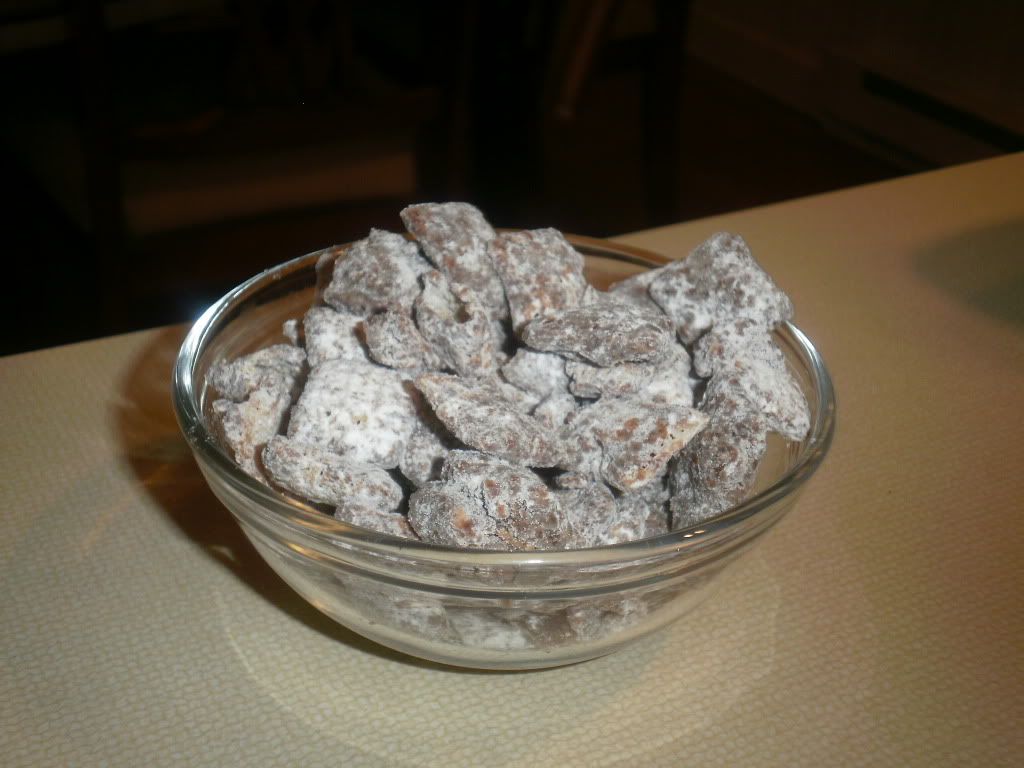 You could play around with this a number of ways. Maybe use almond butter or sunbutter instead of peanut. Or use white chocolate chips or peanut butter chips instead of chocolate. It was really good just the way its written though. Your kids will love you for this one!
Chex Muddy Buddies
http://www.bettycrocker.com/recipes/chex-muddy-buddies/92e4756c-abc1-452a-9b2c-dd124d858050
9 cups rice Chex
1C semisweet chocolate chips
1/2C peanut butter
1/4C butter
1t vanilla
1.5C powdered sugar
Into large bowl, measure cereal; set aside.

In 1-quart microwavable bowl, microwave chocolate chips, peanut butter and butter uncovered on High 1 minute; stir. Microwave about 30 seconds longer or until mixture can be stirred smooth. Stir in vanilla. Pour mixture over cereal, stirring until evenly coated. Pour into 2-gallon resealable food-storage plastic bag.

Add powdered sugar. Seal bag; shake until well coated. Spread on waxed paper to cool. Store in airtight container in refrigerator.