Since I'm on a diet, I decided to start digging up some of my old favorite recipes and putting them on a diet as well. After all, when you're trying to lose weight there is no need to deprive yourself of your favorite foods, especially when just a few small changes can make it fit into your new lifestyle!
You all remember
Spaghetti Pie
, right? If not, where have you been? I'll forgive you if you promise to try this new and improved recipe out. You won't even miss the fat, or the flavor! The exciting part of this recipe is that you get to eat 1/6th of the whole pie for only 9 points! If you decide to make it 8 servings, the points get even better at only 7 points per slice. Personally, I like a lot of food! With a salad or veggie on the side and maybe a piece of garlic toast, its a completely satisfying meal!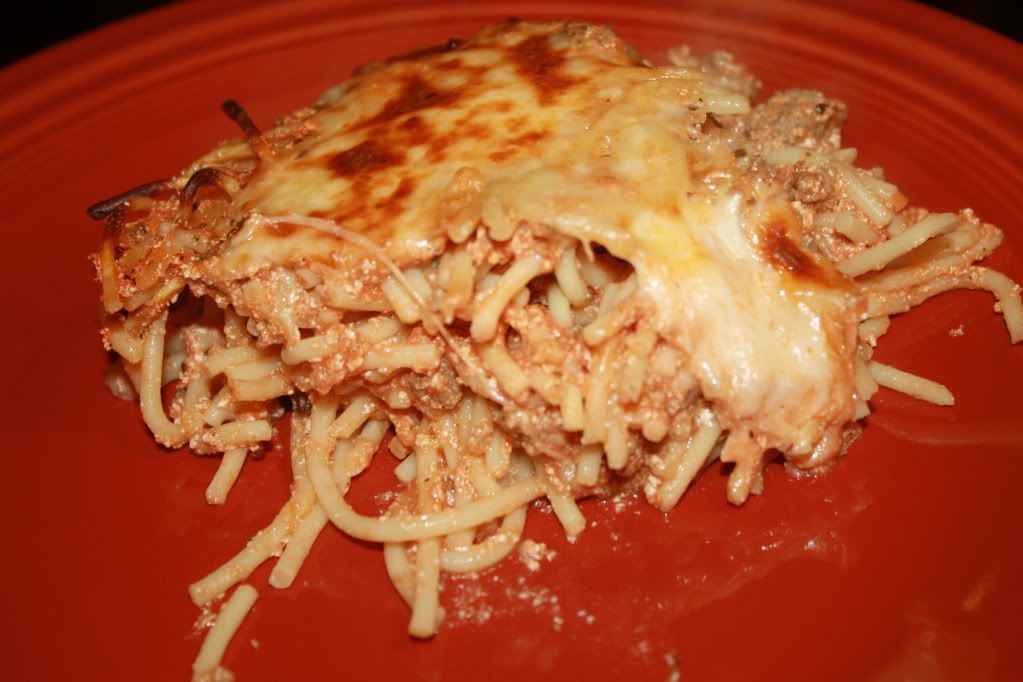 Spaghetti Pie
8oz whole wheat spaghetti
2C Hunt's Traditional Marinara Sauce
1lb lean Italian turkey sausage
1C part-skim mozzarella cheese,shredded
1/4C grated parmesan cheese
1/2C fat free ricotta cheese
3 egg whites
Italian seasoning
Directions:
Preheat oven to 375.
Brown turkey sausage in skillet with Italian seasoning and cook noodles according to package directions.
Mix all ingredients together except for the shredded mozzarella cheese.
Once well combined, pour spaghetti mixture into a pie plate spray with nonstick spray.
Top with 1C of mozzarella cheese.
Bake for 40 minutes, broiling the top for the last 5 minutes if you want a crunchy cheese topping!