I have to admit, when I tried this recipe out of the
Just 5
cookbook, I was skeptical. A
recipe
for lasagna? With measurements and stuff? Huh? I've never gone by a recipe when I've made lasagna in the past, I just know how to make it and I throw it all together. And I use lots of cheese. LOTS and lots. Cheese in between every layer. When its all said and done I probably use at least four cups of shredded cheese. I told you it was a lot.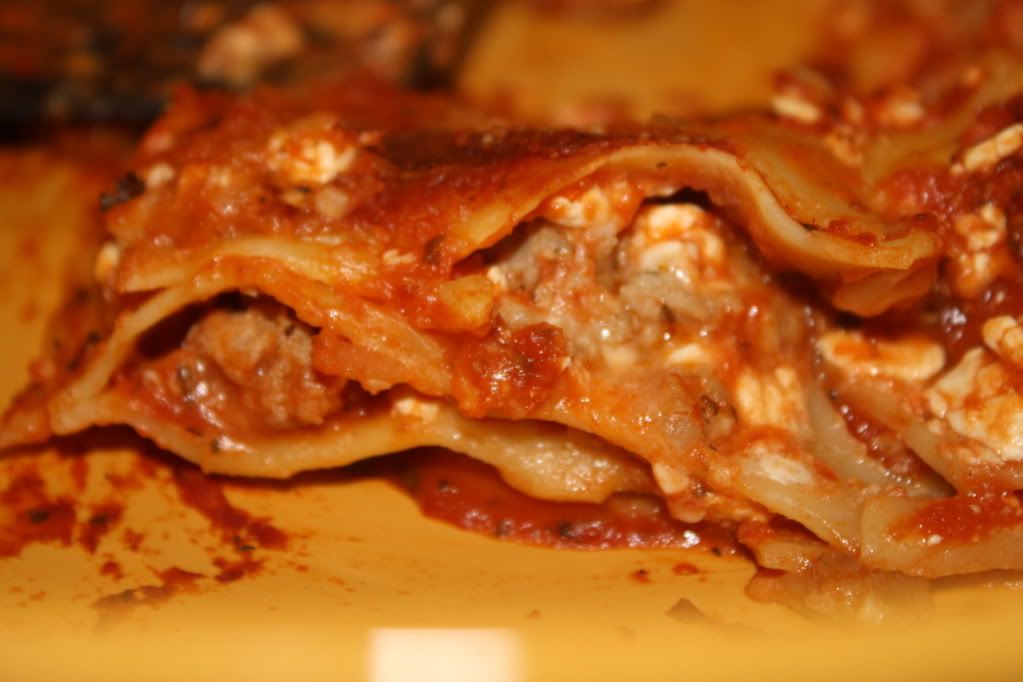 When I saw that this recipe only called for shredded cheese on top, I thought #1, there is no way this will be good, and #2 there is no way its going to stay together without cheese as a binder. Well, I was wrong and wrong! After the first bite, I was so excited at the thought of having leftovers for lunch the next day. Ha! My family devoured the entire pan! Everyone had at least seconds, and one person who shall remain nameless had
thirds
.
Since I seem to have an allergy to following recipes as written, I changed some things about this recipe. In the cookbook its called "Beef and Ricotta Lasagna," which is funny because those are the two items I changed! In my Italian dishes I've come to much prefer Italian turkey sausage to beef, every time. Its already seasoned and it just plain tastes better. I've also been a long time fan of cottage cheese over ricotta in lasagna. I'm not sure what it is, but it adds sort of a sweetness to the flavor of the lasagna, not to mention its much cheaper than ricotta. It would really be good with either, so choose what you like best (but don't forget to recalculate your points!). The book lists this as 10 points for 8 slices, but I got it down to 10 points for 6 slices!
Lasagna
12 no cook lasagna noodles
4C Hunt's Traditional Marinara Sauce
1C part skim mozzarella cheese, shredded
2C fat free cottage cheese
1lb lean Italian turkey sausage
Spices (I like to add Mrs. Dash's Tomato/Basil/Garlic seasoning to my meat)
Directions:
Preheat oven to 375.
Brown turkey sausage in a skillet until cooked.
Spoon 1C of sauce into the bottom of a 9x13 pan, then top with 4 lasagna noodles.
Add 1/2 of the meat, then dot with 1C of cottage cheese, top with 1C of sauce.
Place 4 more noodles on top, the rest of the meat mixture, the rest of the cottage cheese and 1C of sauce.
Finally, top with the last 4 noodles and last cup of sauce, finishing with 1C of shredded cheese.
Spray a sheet of aluminum foil with cooking spray and cover dish.
Bake for 40 minutes, remove foil and bake another 10-15.
Broil the last 5 minutes if you wish.