I've decided to throw in a bonus recipe this week, in honor of Turkey Day! I just happened to dig this one up, and decided that it needed immediate sharing in time to make it to your Thanksgiving table. But don't go getting used to this two-posts-in-a-row-thing. ;)
I am perfectly happy with the old Campbell's cream of mushroom soup version of the holiday favorite, Green Bean Casserole. The first Thanksgiving my husband and I spent together (just our little family), I proudly made the old American classic and plopped it down on the table at dinner time. After one bite, his face told me all I needed to know. Blech.
Let's face it. Many of us have grown up with this version, and have come to love it the way we love Kraft Mac and Cheese in the blue box - because it tastes like childhood. But that doesn't mean it's
actually
good. It's not. I'm sorry. (The casserole that is, the blue box is still amazing, and you can't convince me otherwise.)
So, I introduce to you my adult version of green bean casserole for your holiday table. It's out of this world, and still has some elements of the traditional casserole for nostalgia's sake. And bonus, if you make this version, you'll even earn yourself a seat at the grown-up's table. Winning!
(Sorry, this picture sucks, just trust me - it's fabulous.)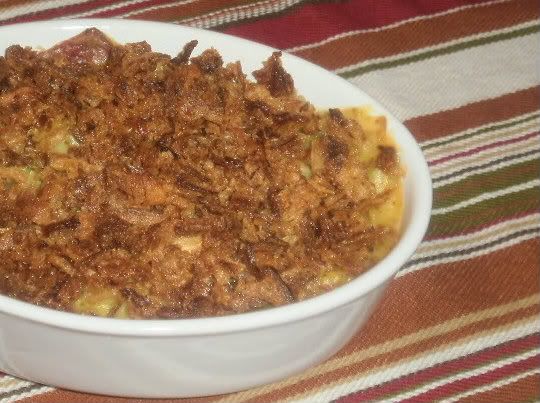 NOT Your Mom's Green Bean Casserole
1/2 lb bacon - cooked and crumbled (I cook mine in the oven now to avoid the mess, and it works beautifully! For a tutorial, go here! You can also use bacon bits from the salad section of the store if you don't want to go to the trouble to cook the bacon yourself.)
1 stick of butter
1/2C flour
1 1/2C chicken or vegetable broth
1 1/4C shredded cheddar cheese
1 bag of frozen green beans (defrosted) OR 2 cans of green beans of your choice (I use canned, because that's just what I prefer, I've used both regular cut and french style green beans.)
1/2 teaspoon salt
1/4 teaspoon pepper
1 teaspoon garlic powder
French fried onions
Directions:
Preheat oven to 350.
Melt the butter in a saucepan on medium heat, and whisk in the flour, stirring for 1 minute. Slowly add in chicken broth and whisk for about 5 minutes. Add salt, pepper, and garlic powder, continuing to stir until thickened. Next, add cheddar cheese until melted.
Pour green beans and bacon bits into cheese mixture and stir to combine.
Transfer to a 9x9 pan (Or any other pan of a similar size. Pie pans work too, or other round baking dishes as I've used here.) Top with french fried onions, and bake for 30 minutes.
Dig in!