Well, Pie Hole Fans, I bet you thought I was planning to neglect you forever, didn't you!?
I kind of was...
You see, not due to lack of love or devotion, I simply had all these pesky things going on in my life. Like three kids and a husband, a full-time job, and full-time classes. You know, just silly things, really. So, I let the poor old Pie Hole fall by the wayside. However, I am happy to announce that two things have recently happened that encouraged me to fire the old blog back up again.
First, I have finally finished my bachelor's degree! (Happy dance.) Whew, it was tough but I did it! Not having to worry about a full-time class load on top of my full-time work load AND all my family obligations, has freed my schedule up a little, giving me some time to refocus on the blog.
Second, I have some bossy bitches for friends. (You all know who you are.) I don't think there has been a group get-together in the past year where at some point I didn't feel like I was in a bad after school special on the topic of peer pressure. But, thanks to my friends who have pushed me, I am finally going to give the blog another attempt. My goal is to post one recipe per week to start off, so keep me accountable!
No, I'm not done yet. And yes, I do plan to share a recipe today. Hey, you wanted me back, here I am - now keep reading!
I had a hard time coming up with a recipe worthy of the Pie Hole's re-grand opening, so I went with a no-fail, childhood favorite from my mama. This is a recipe for a Poppy Seed Bread that my mom used to make all the time when I was a kid. Whenever I go home to visit, she is required to make it for me for breakfast, and she's usually sweet enough to make extra so I can take some home. Rewind to the first time my husband tried said bread at my mom's house. I was 8 months pregnant at the time, and before we headed home, my mom gave us a mini loaf to take along. I decided my poor, fat, pregnant self needed a nap when we got back, so I laid down. But I woke up to a husband with an extremely guilty look on his face. He had eaten my bread. ALL of it. Let me say that one more time. He ate ALL of a pregnant woman's favorite bread of all time. According to him, he "just couldn't stop." Yes, it's that good. But I wouldn't recommend stealing it from your pregnant wife, because that was NOT a pretty day.
So, here you have it, the bread that makes husbands rival their pregnant wives. Let me know what you think!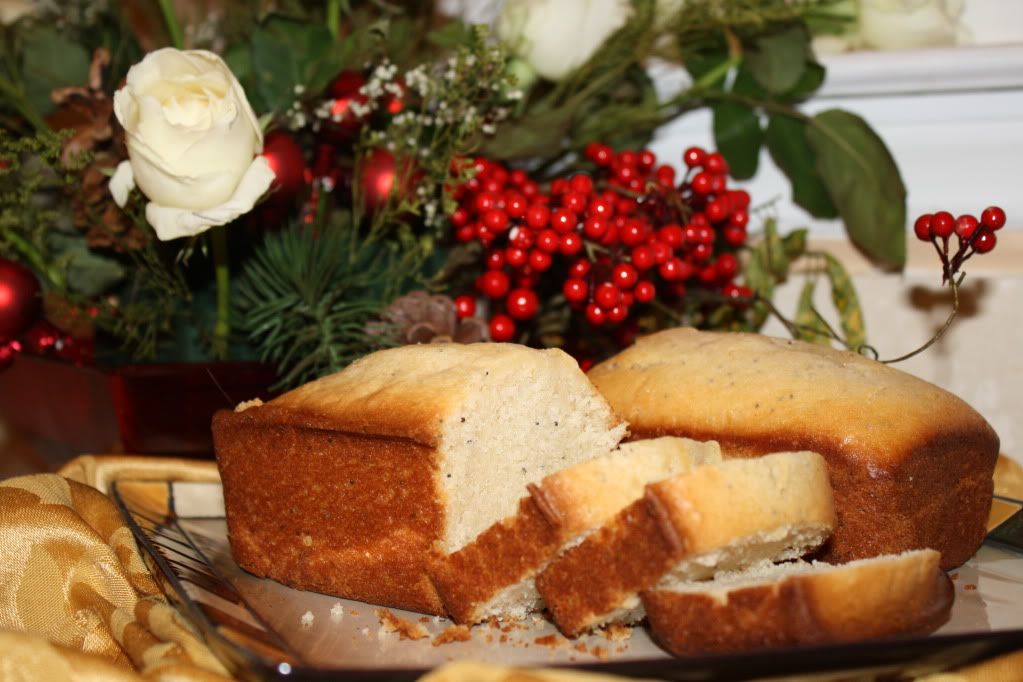 Poppy Seed Bread
3
cups
flour
2
cups
sugar
3
eggs
1 1/2
teaspoons
baking powder
1 1/2
teaspoons
salt
1 1/2
tablespoons
poppy seeds
1 1/2
cups
milk
3/4
cup
vegetable oil
1 1/2
teaspoons
vanilla
1 1/2
teaspoons
almond extract
1 1/2
teaspoons
butter flavoring
Directions:
Preheat oven to 350.
Combine the wet ingredients and the dry ingredients separately, then incorporate together.
Spray 2 loaf pans with nonstick cooking spray and divide batter evenly between them. (I have also made these as mini loaves. You could probably do muffins as well!)
Bake for 50-60 minutes, until a toothpick inserted comes out clean.
Cool and stuff face. :)
Glaze (optional)
1/4 cup orange juice
1/2 teaspoon almond flavoring
1/2 teaspoon butter flavoring
powdered sugar
Directions:
Combine the first three ingredients and gradually add powdered sugar until desired consistency is reached. Pour over warm bread (or just eat with a spoon).